Aestarius
Jump to navigation
Jump to search
Aestarius

Location
Arda,"Glade of Dragons"
Races
Halflings High Elves
Major
Occupied by High Elves.
Introduction
Aestarius is the only known Halfling town in Eden apart from Mapledale. It can be found south of Aerial in the Glade of Dragons and hides itself in a forest along the main road. Below you shall find information about the inhabitants, history and much more.
The name
The name Aestarius comes from the Aestari shrine. The Aestari shrine is an old High Elf ruïn that lies hidden in the forest surrounding the town of Aestarius. The Ruïn was found when the Halflings made their way into the forest.
History
Aestarius wouldn't be there if it wasn't for it's two sole inhabitants. Thus the timeline starts with the ,somewhat troubled, youth of Otto Lothran and Bill Bandobras.
Mapledale, where our 2 halflings were born, seemed to be a nice place to grow up. Well, that was all a lie. The happy and always colorful appearance of Mapledale ended up being a good cover-up for some of it's darker secrets. Otto and Bill discovered these darker secrets during the Plague. Around 1506 after the Age of the Fallen Spires The Plague had got them, and many others, into financial issues, leading to a massive economic disaster. So to pay the bills they turned to what was called 'Hornwoods gang' also known as the 'Mapledale Maffia'. Hornwoods gang was a halfling criminal organization led by the fearsome Harry Hornwood. Even though Hornwood had a very bad reputation, it was Bill and Otto's only way out. And for the next 2 years things went well so it seemed. Otto was employed by Harry as a tailor, since he was schooled in tailoring it seemed as the only logical option. This meant he made special tailored suits for Hornwood and his gang, all of this for minimal payment. Bill on the other hand was employed in the field. Hornwood used Bill to steal high value objects all around Eden. Bill got very good at this stealing job, yet it was the stealing that led to the end of  the adventures with Hornwood. One day Bill was sent to steal a Dark Elves ear, this went wrong since well, cutting off someone's ear will wake them up. When Bill came running into Mapledale with a pointy ear Hornwood seemed satisfied, and he was, until he saw the bleeding Dark Elf behind Bill. Hornwood got so angry he ordered his gang to kill Bill. So in the blink of an eye 1 angry Dark Elf turned into 1 angry Elf plus 11 angry Halflings. Bill noticed he was in grave danger and immediately made his way to Otto's and his shack where they had a donkey. Otto was working on suits when suddenly loud knocking was heard on the door. He stumbled off his chair onto the door. There was Bill, bloody pointy ear in hand. With in the distance a herd of angry things appearing. Bill, out of breath, mumbled to Otto what happened. Otto was shocked, so Bill took him to the stable where they got onto their donkey, bloody ear still in hand. What follows next wouldn't be believed if it was seen today. A donkey, ridden by 2 halflings busted through the stable doors onto the road. Otto and Bill nearly clinching on. They started riding and riding, Hornwood and his men strong on their tails. Hornwood and his men also found some donkeys and mounted them, resulting in what is now known as the great donkey chase of Eden. Otto and Bill hobbled on as arrows flew past their heads. Their donkey started to give in, this meant Hornwood and his halflings started closing in on them. When suddenly in the distance a forest appeared. Bill and Otto hobbled their way deep into the forest, making it nearly impossible for Hornwood and his men to follow them. Once they lost Hornwood, Bill and Otto calmed down. When suddenly they stumbled upon an old ruined farmhouse next to an old elven Ruïn.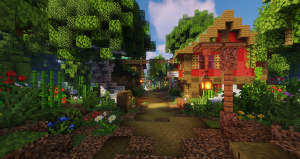 It is this farmhouse where the real history of Aestarius starts. Since Otto and Bill were basically banished from their home in Mapledale they decided to do the obvious: go and live in the farm house. So this they did, over the following years they started growing their own crops and fixing the old and deluded house. This actually meant they had no problem with the plague at all, being in a completely desolate forest with no one around them. Up until now Aestarius couldn't be called a town though. It was when the plague ended that the town idea came into play. Word got around that Hornwood perished to the Plague and that his gang killed each other trying to decide who was going to be the next leader. Even though Mapledale was safe now. Bill and Otto grew so fond of their new house that they didn't feel like going back to Mapledale. Instead they decided to create a path through the forest. The world coming back after the plague greatly stimulated movement along this path, which made it into the road to Aerial we know today. This sudden rise in folks passing along their house gave Otto the idea to start a tailor shop, fully legal as it should be. Otto and Bill started construction on the new shop and within a few months the store was build. Only problem was, cloth was expensive, so Bill, still having a history as a thief, stole some sheep in Mapledale and brought them back to their farm. Having these sheep meant that they were self-sufficient, not only on a food basis but also as a business. And though Otto's tailoring got them into financial better times, Bill couldn't stop thinking about the wealth Hornwood got from his Maffia adventures. It were these thoughts that got the store that is now known as Bill Bandobras Pawnstore up and running. After construction on the new shop building was finished, Bill got their donkey and went back to Mapledale. When it turned dark he sneaked to Hornwoods old hideout, and to his surprise it was full of all the treasures he stole. He packed them all up and got them back to his shop where most of it is still for sale today.
Dark Secrets
While Aestarius seems a nice place to be around it houses some darker secrets. Beneath the village lies the hideout of a gang named the B.B.B.B also known as Bill Bandobras' Barefoot Boys. It is this Halfling Mafia that runs Eden from the undergrounds. The Mafia is the main source of income for these Halflings therefore they accept payment from everyone around Eden. Yet it must be said that High Elves always come first.
Colonization of High Elf Territory
The ground that Bill and Otto claimed as their own is actually territory of the well known High Elves. After staying in the farmhouse for a while Otto discovered a Silver City north of their location. Bill and Otto jumped in their Canoe and went for a look. Once they reached the square all the Elves looked down on them. Wondering where they came from and what they did there. They were led to the tavern where Bill and Otto started explaining where they came from. This raised some red flags among some Elves, especially when a weird Ruïn in a forest was named. This is why Otto and Bill were summoned to meet with Aethis Zaithrall the ruling High Elf leader. In this meeting Otto and Bill explained their situation and history and came to terms with the High Elf leader. They could stay in Aestarius, as long as they would keep the Ruïn safe. Otto and Bill agreed and from that day on their bond with High Elves would significantly improve. Eventually leading to lots of trade and more.